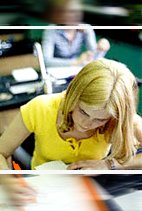 Whether creating couture or designing prêt à porter, designers are influenced by their experiences and inspired by what is going on around them. So why not study fashion design in Canada?

From the traditional textiles of India to the street influenced fashions of Japan to New York's Fashion Week and the runways of Paris and Milan, fashion is truly a global industry.

An international education will not only provide you with the skills and knowledge you need to enhance your prospects globally, but will also present you with new experiences and introduce you to new ideas, stimulating your creativity and inspiring your designs.
Canada is a hotbed of fashion creativity and style, producing design superstars including Dean and Dan Caten, the talented brothers behind D-Squared, and Arthur Mendonça, one of the industry's rising stars according to British Vogue.

Whether you are interested in learning how to become a patternmaker, costume designer or stylist, or if you aspire to have your own collection and run your own fashion house, there is an institution and a program just right for you. Studying fashion design in Canada will provide you with the practical skills and knowledge you will need to be successful globally.

Find a Fasion Design Program in Canada